2024 Santiago > Montevideo
Travel to the southern extremes of South America for a ethereal scenery. Wild yet serene, Patagonia offers a kind of peace that makes you wonder if you have found paradise. Join Scenic Eclipse and travel further south to little islands with big tales to tell. The South Georgia Islands are teeming with wildlife and exploration history, while the intriguing Falkland Islands are unique, as is the great white wonder of Antarctica.
Patagonia is a truly unique landmass surrounded by a different ocean on each of its three coasts – the Pacific, the Atlantic and the Southern Ocean – and offering some of the most spectacular vistas in the world. Soaring granite mountains, lush forests, distinctive wildlife, magnifi cent glaciers, cerulean lakes, and the largest ice-fields in the Southern Hemisphere after Antarctica. In El Calafate, get up close to the glorious Perito Moreno Glacier and drink in the spectacular views. Discover the splendour of Los Glaciares National Park before venturing into the dramatically beautiful Torres del Paine National Park with its soaring peaks and crystal clear lakes. In South Georgia, photograph the impressive jagged mountain vistas and walk through some of the world's largest king penguin colonies. Summer comes to Antarctica and South Georgia like a revelation. Penguins nest, and voraciously hungry chicks grow quickly as their parents work hard feeding them. The waters are teeming with whales feasting on krill, orcas hunt in packs and elephant seal beachmasters are busy guarding their harem. In the Falkland Islands, we explore the historic town of Stanley and the wildlife endemic to the region.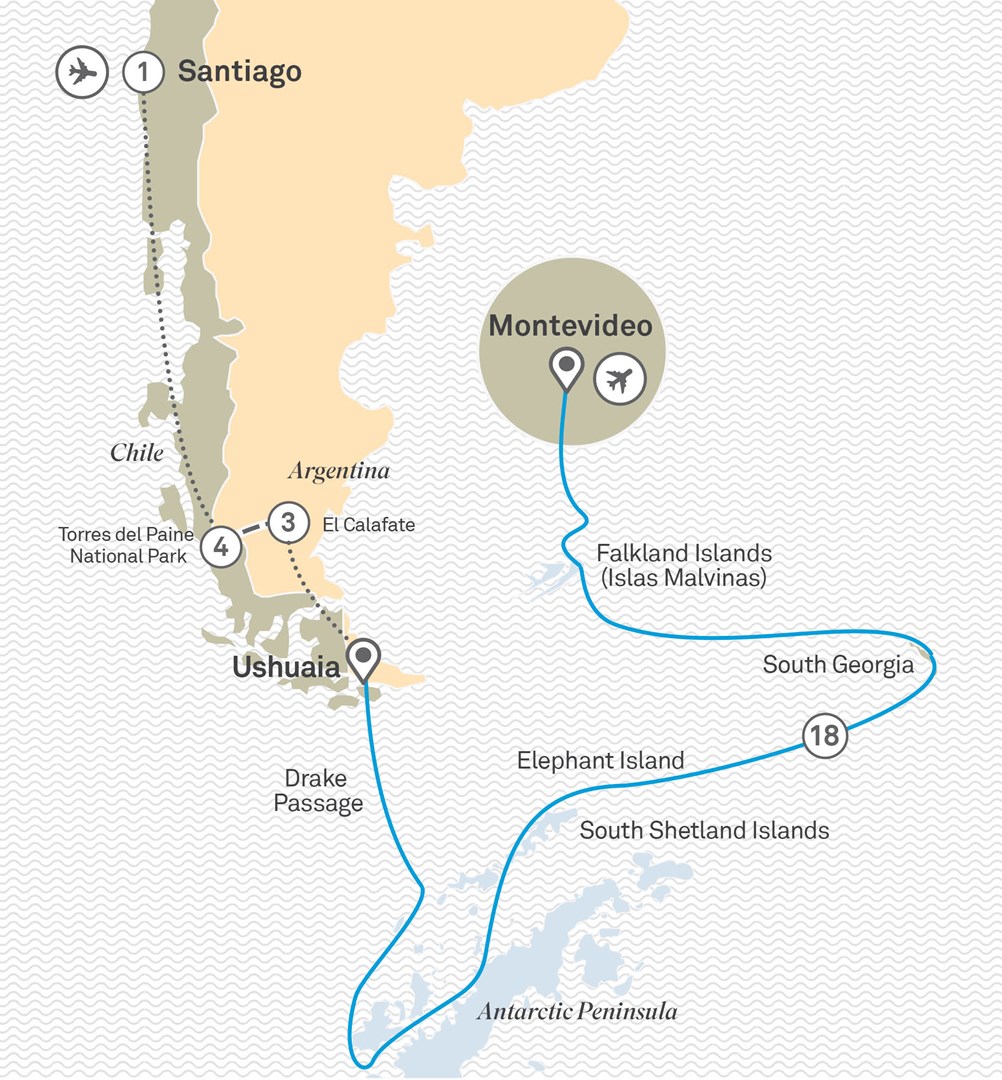 Tour Code:

OSP6

Duration:

27 days

Departure City:

Santiago

Return City:

Montevideo